Longtime Pine Tree camper, Scotty, is living life to the fullest.
"If you ask Scotty 'Who's famous?' he taps his chest," said his mother, Lisa.
Scotty is the real person behind the new book "A Dog and His Boy: The Adventures of Spillway and Scotty." This touching story is based on true events in Scotty's life growing up in Maine alongside his life-sized stuffed dog named Spillway.
"The book couldn't have come at a better time and the response has exceeded our expectations," Lisa continued. 
Together, Lisa and Scotty travel the state visiting schools, libraries and hospitals to read from the book and share their message of acceptance, friendship, inclusion and celebrating differences.
"One of the things we talk about is determination and creativity and how the support of friends makes things possible," said Lisa. "Being with people and sharing that message is very fulfilling. We're so proud of the book and what it's done so far."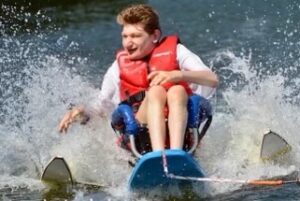 In the back of the book are real life photos of Scotty featuring all the activities and organizations he's a part of, including Pine Tree Camp.
"We're so lucky to have Pine Tree Camp," said Lisa. "He has so many good memories there. There's truly a lasting joy for him. He knows right where he is when we're driving down the hill and he sees the view of the water. He gets super excited."
Scotty is very social and loves being around people. Lisa takes pictures of everything he does and the people he meets. Scotty is non-verbal and the photos help him communicate. 
"I always put the pictures on his iPad," Lisa said. "If he's thinking of Pine Tree Camp, he'll pull up a picture and come and show it to me. Those are memories that he won't forget."
Year-round, Scotty and his family come to Pine Tree Camp in every season through Adventure Day Pass. 
"It's always fun to go back. Every time we go there's always something new," Lisa concluded. "From adaptive waterskiing to biking to walking nature trails in the woods to visiting the farm animals; it's nice to have something new to look forward to and try. I always want him to be able to try something new."
Learn more about Pine Tree Camp's Adventure Day Pass and Family Camp programs.
More About the Book: "A Dog and His Boy: The Adventures of Spillway and Scotty" is a touching children's book based on true events about a developmentally disabled boy named Scotty and his life-sized stuffed dog named Spillway. This unique and heartwarming story is told from Spillway's point of view and explores themes of acceptance, empathy, inclusion and friendship. Spillway takes the reader through life with his boy Scotty as they embark on a series of adventures and face challenges together. For more information, including a list of upcoming book readings and signing events, please visit www.spillwayandscotty.com.